LEADFRP is the wholly-owned subsidiaries of Xi'an Yongxing Science & Technology Development Co., Ltd. It mainly works on R & D, design and manufacture of glass fiber composite material, carbon fiber composite material, aramid fiber composite material, basalt fiber composite material products. LEADFRP was founded in 2001, it has staff of 108 at present. We have 5 high polymer material researcher, 6 composite material engineers and 4 inspection engineers of raw material and product quality. We also have 55 FRP pultrusion production line. We are China's largest and the most powerful manufacturers of FRP pultrusion profiles. The registered trademark of product is LEADFRP.
Main products including: FRP composite pultrusion profiles, FRP composite pultrusion angle, FRP composite pultrusion square tube, FRP composite pultrusion round tube, FRP composite pultrusion T bar, FRP composite pultrusion rectangular tube, FRP composite pultrusion flange beam, FRP composite pultrusion round rod, FRP composite pultrusion channel beam, FRP composite pultrusion grating, Phenolic resin pultrusion profiles, Phenolic resin pultrusion grille, Phenolic resin pultrusion evacuation platform, the phenolic resin composite material cable mounting bracket, FRP wind power blade, Dry type transformer insulation dogbone and corner piece, dry type transformer and reactor with ventilation and insulation, FRP Subway tunnel evacuation platform, FRP composite molded grating, FRP composite molded grating cover plate, FRP composite slide walk, FRP composite cable trench cover plate, FRP composite ship deck, FRP composite stairarmrest, FRP composite electric protective fence, FRP composite separation barrier, FRP composite safety fence in overhead viaduct, FRP composite cable tray, FRP composite trunking, FRP composite ladder, FRP composite inclined ladder, FRP composite ladder stand, FRP composite caged ladder.
The products of LEADFRP also include: FRP composite profiles used for cooling tower, FRP composite insulation profiles, FRP electrical cross arm, FRP cable bracket, FRP composite communication radome, FRP composite insulation ladder (straightladder, trestle ladder, extension ladder, combined clim ladder), FRP tool handle, FRP live working tool, FRP lamp pole, FRP lighting pole, FRP composite sign pole, FRP sign pile, FRP signboard, FRP insulation step ladder, flame retardant and smoke-free FRP composite channel for escaping of subway tunnel, FRP protective cover for the third rail of electrified railway, flame retardant and smoke-free FRP pultrusion cable tray, railway station FRP blind pedal, carbon fiber composites (CFRP) series, FRP reinforced recycleed dock fender series, FRP cable protective tube series, electric precipitator specialized composite vibration insulator (used in top and side), FRP composite sound screen facilities, FRP cable strengthen core (GFRP glass fiber or KFRP aramid fiber), high and intermediate frenquency electric furnace used insulation flat bar and insulation support, FRP solar photovoltaic bracket, laver culture specialized high strength FRP deepwater pole, laver culture specialized high strength FRP deepwater inserted pole and ect.
FRP are widely used inpetroleum, petrochemicals, chemical industry, port, electric power, transportation,papermaking, medicine, steels, foodstuff, municipaladministration, realestate, photovoltaic solar, cleanenergy and ect. They are applied for different working conditions, such as acid and alkali, easy to rust in damp, pollution, high temperature and flammable working corridor, chemical working platfrom, trench, offshore oil drilling platform, offshore oil drilling and drilling machine used ladder pedalsat top and bottom, electric precipitator in power station ect.
We export to the world. The main market are North America, Europe and southeast Asia. Now the products have been exported to the United States, France, Britain, Germany, Canada, Mexico, Brazil, Japan, Italy, Russia, Kazakhstan, Brazil, Armenia, Singapore, Malaysia, Vietnam, the Philippines and other countries. We get acceptance from customers at home and abroad because of our good products, fast delivery and excellent service, and gradually establish a long-term and stable cooperation with customers,winning the praise of customers.
Besides, the carbon fiber composite materials CFRP project general office was founded according to future market developing demand. We produce carbon fiber rod, sheet, tube , square tube and others carbon fiber composite profiles. We are committed to the serialization of product's specification and the diversification of varieties of carbon fiber products, furthest meeting customer's needs for the new material in the future.
LEADFRP possesses 20000 sq meters standard plants, 80 sets of advanced various manufacturing and machining equipments , 120 sets of assembly pultrusion production line, including one 1000 kN tensile strength machine and one 200kN bending and torsion machine. We also can proceed basic property test of different kinds of composite insulation materials according to GB, ASTM, etc standards. Our productspassed international authorized institute of TUV Rheinland (Germany) type test,passed international authorized institute of USA (UL) type test, obtained UL test report. It is the most largest manufacturer of composite insulator pultrusion core rod, also one of the largest manufacturers of fiberglass insulation sleeve (tube) and pultrusion profiles.
We strictly carry out standardized,scientific and normalized management mode. We fully implement ISO9001 quality management system, ERP managing system and 6S management mode through the whole service cycle of contract signing, production, process inspection, finished product ex-factory, after-sales service,which outstandingly reflect " Quality is the life ofenterprise" . The company passed ISO9001 quality and management system identification, ISO14001 environment management system identification, GB/28001 occupational health and safety management system identification. But all the time we insist on the self-denial concept of 99+"1″=0 in quality and service.
We always adhere to management concept of"continuous improvement, pursuit excellent", in order to satisfy customer's requirement on products, we keep improving self technological level and productivity to decrease the production cost. Our company owns a group of experienced professional technicians and excellent team. We carry out the conversion of product design ,mold design and product standardized testing, scientific and reasonable,complete solution will be provided to customers in accordance with the customer's technical requirements. Product qualified rate is as high as 99.9% under the strict quality control of production process. Through many years' production practice, the company has accumulated rich experience, and can ensures the high quality of FRP products.
LEADFRP has been taking the management concept of " Basing on quality, Winning by service, Marching ahead with sincerity" a long time. Basing on the domestic market, facing to world, we extensively participate in international technical exchanges and cooperation. We stick tohonest and pragmatic work style, possess advanced technology and process in composite insulating material, and have the best cost performance with competitive advantages.All these have won many strategic coorperation partners for the company at home and abroad.
Pursuit of excellence, sincere and extraordinary service, we keep trying.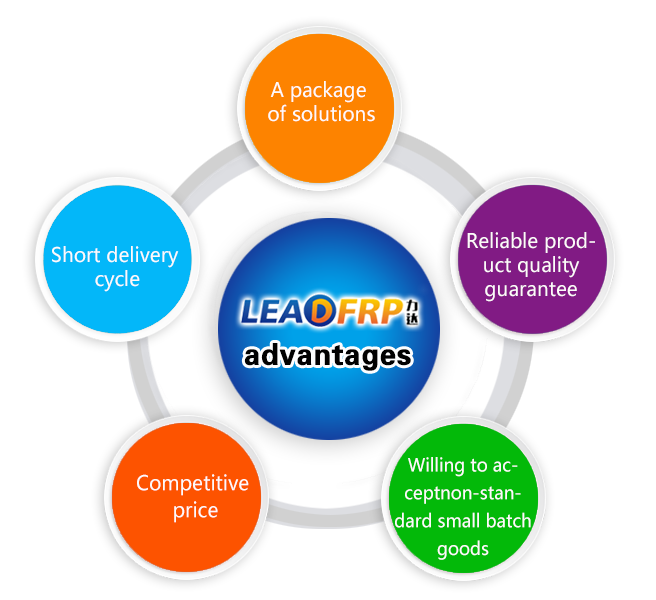 2002
We joined the China Composite Materials Association, became a full member. We purchased 5 units of 300KN hydraulic machine to produce the composite pultrusion profiles. It mainly includes FRP round tube, FRP U type profile and FRP dog-bone for transformer.
2003
We developed and produced sets of the high polymer composite vibration insulation axis, with temperature resistance of 155℃ for Fujian Longking.
In the same year, this product declared the National invention patent.
2004
LEADFRP decided to purchase 50000 square meters land in Jinghe Industrial Zone to build the production lines.
We attended the JEC international composites exhibition in France.
2005
LEADFRP got the export licence for Epoxy resin pultrusion electrical insulating rod and composite materials pultrusion profiles products. The composite pultrusion profiles were exported to Russia, Vietnam, ect counties.
2006
The whole company moved into Jinghe Industrial Zone. We obtained the SGS certificate the UL certificate for the Pultrusion profiles.
At the same year, the quantity of composite pultrusion equipments increased to 20 sets.
2007
We registered the brand "LEADFRP" for the composite materials and got the permission of the State Trademark Bureau.
Our composite pultrusion profiles and winding insulation tube passed the test of specifications performance, which were mainly applied in sports equipment and exporting tool handles.
2009
The composite pultrusion profiles were used in transmission and transformation project. It is Anti-aging problem was solved. The main products include the composite pultrusion rectangular tube, H-type profile, U-type profile and composite molded gratings.
In the same year, we export 1 million US dollars products.
2010
The former President of China Composite Material Association Mr Chenbo visited our company and gave us some guidance on the work. Mr Chen taught the fiber pultrusion, filament winding and fiber weaving technology principles to our technicians.
Composite pultrusion and Winding insulation tube were started to be applied in substation maintenance as stagings.
2011
LEADFRP started to develop SMC/BMC electrical product specialized composite materials. BMC surge arrester bracket put into batch production. Besides, after passed the test in Japanese Toshiba Transformer Co., Ltd for one year, LEADFRP transformer dogbone ( insulating material) formally entered the Japanese market.
In the same year, the quantity of composite pultrusion equipments increased to 30sets.
2012
We purchased the Vacuum autoclave device, brought into no emissions of presoak material production technology, planed to produce Advanced aramid fiber products. We won the bid for oil well logging instrument calibration facility projects of China National Offshore Oil Service (COSL). This project required that all the main structure to be made of composite materials, no metal materials, tower body at 20 meters high. We installed and finished this project within one year, and it is well accepted by the customer. It marked that the company continued to expand to the oil exploration and development industry.
In the same year, we made a breakthrough at composite pultrusion profiles exporting to $3,000,000.
2013
We invested a lot of costs to research and develop the non-solvent type Phenolic resin pultrusion profiles.
In the same year, we got a big success in Phenolic resin pultrusion subway escape evacuation platform project and obtained the national invention patent. Tested by the national fire product testing center, it complied completely with all performance standards.
2014
Our cable strengthen core obtained the national invention patent. Meanwhile, the composite pultrusion production line increased to 50 sets.
2015
Our carbon fiber composite core and pultrusion carbon fiber composite core got the national invention patent.
In the same year, LEADFRP composite profiles were widely applied in China State Grid UHV substation project.
1. Training System
The company will carry out effective training system based on the general developing goals,business strategy planning and human resource developing needs.
1.1 Middle management training ;by learning advanced management mode,idea,communication skill and management skills , we will arrange the communication between middle and high employees management cases, in order to improve the overall quality and management ability , and make them develop in the enterprise operation and management.
1.2 Key position training :promote company sustainable development ,build excellent reserve talent team,and improve the ability ofemployees at key position by management skills and major skill training.
1.3 New employees training :to conduct a series o f training which include enterprise culture , company regulation, post standard, department work-flow,the new staff could integrate into thecompany team rapidly, identify enterprise culture ,and make clear their role to adapt requirement.
1.4 Researcher professional training: at fixed period, we will arrange some training about industry trends, research trends and product positioning etc.held by by well-known specialists and scholars to improve the researching ability.
1.5 Front-line staff skills training :employees can get constant skill improvement through product knowledge and skills training.
1.6 Quality system:Through the learing of ISO9001, the company's quality management system construction and the continuous improvement ability has bee improved, to ensure the implementation of the company quality management system.
2. Competitive employment mechanism
In order to improve the learning ability of learning and management , at the same time provide promotion channels, our company develops the management competition mechanism.Marketing vice President, chief engineer, development manager, production vice President are rehired every three years.Sales regional manager performance score ranking jobs hired at the end of each year,Other management job is divided into three parts, each plate annual comprehensive assessment staff hired last name,vice production manager position by the end of the production manager to determine whether need.
Competition is based on the principle of fairness and openess, aims to enhance the level of management, integrated management and open their promotion channels at the same time, make the enterprise human resources is more vitality and combat effectiveness
3. Salary system
The company establish performance oriented salary system, salary consist of post salary, skill-based pay and performance salary. Post salary is the same for the same position.Company established a comprehensive performance evaluation system,the skill based pay is set up accordingly. Company established a comprehensive performance evaluation system, set up monthly, quarterly, annual appraisal index, appraisal index directly affects employee performance that month salary
After analyzing the operating conditions in a year, according to the employee performance achievement and contribution to the enterprise, to a certain number of year-end bonus.For those interested in the enterprise long-term development of excellent staff and management staff can hold within the company shares, corporate profits are Shared with employees
4. Social benefits
4.1 Company staff have endowment insurance, unemployment insurance, medical insurance (including the poverty-stricken medical), inductrial injury insurance, and, and for business trip overseas
personnel to handle the personal accident insurance
4.2 Employees can enjoy the various holidays stipulated by the state, and can enjoy17 days of paid leave benefits according to the different working agein every year .
4.3 Employees can get gifts at Important holidays and send a beautiful birthday gift for employees.
4.4 Production line model worker end-of-year bonuses, cash in that year the average monthly salary. Year-end welfare except physical distribution
4.5 If the employee work exceed one year, they have 50yuan allowance per year, being gave out along with the salary.
4.6 The company offer high temperature allowance for some type of work.
4.7 Some post in the company have lunch allowance for some type of position.
4.8 There is chance to go abroad for learning and training of part positions.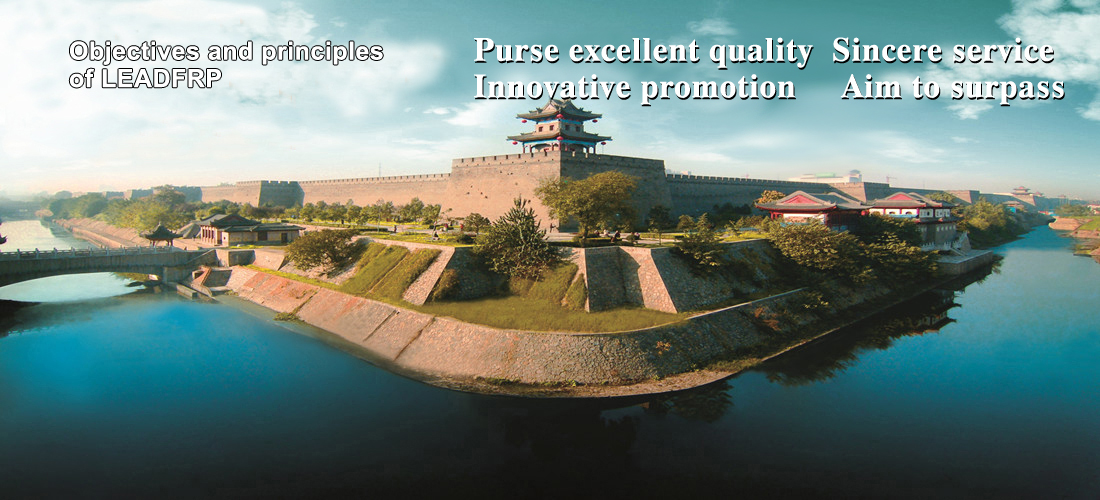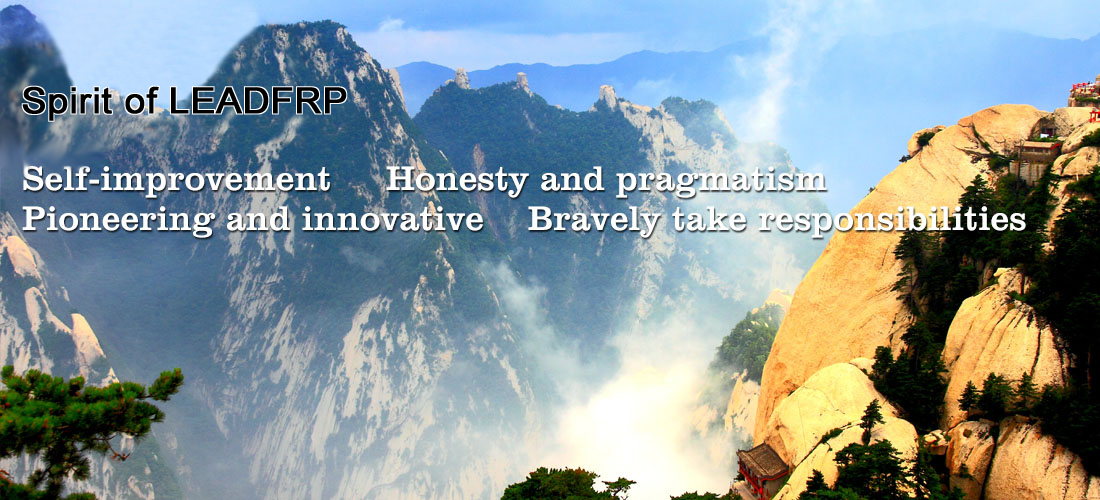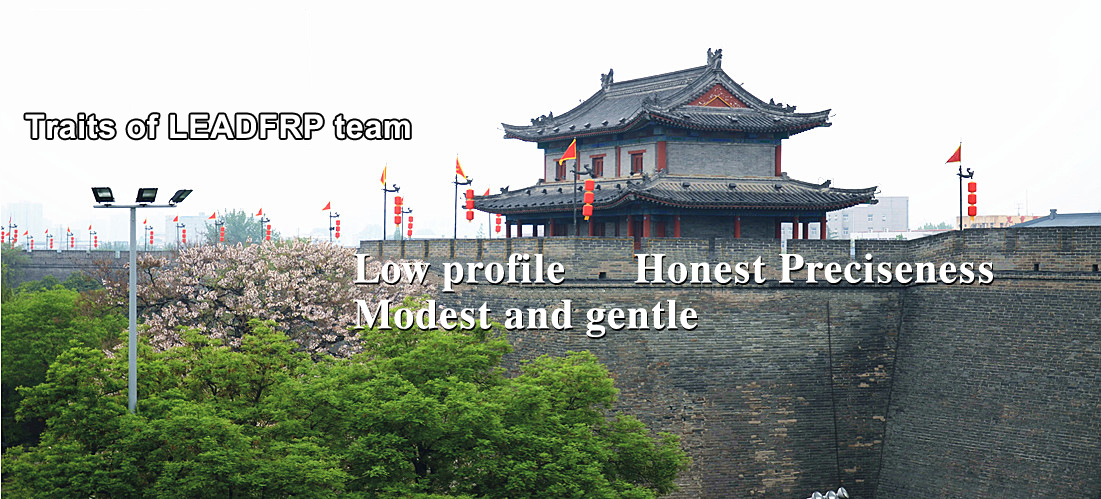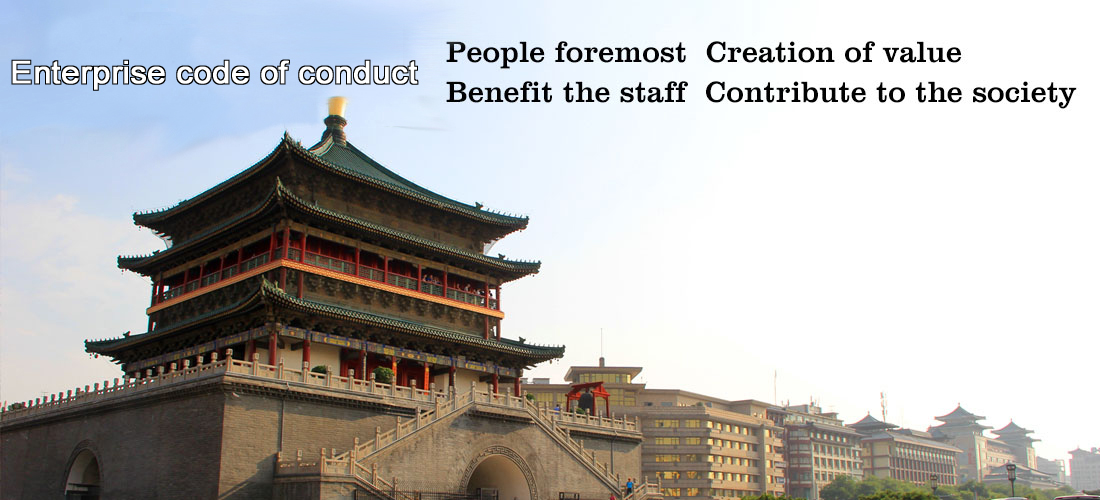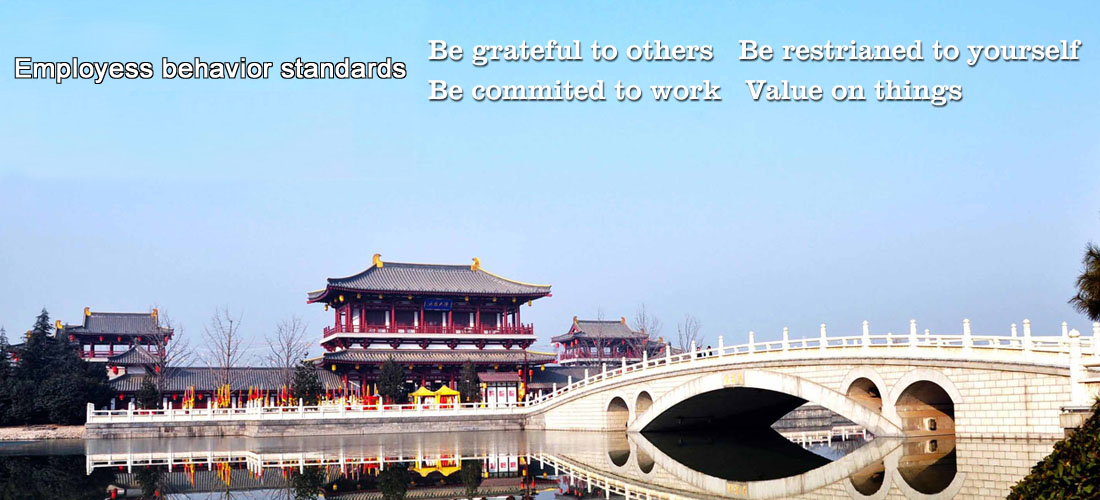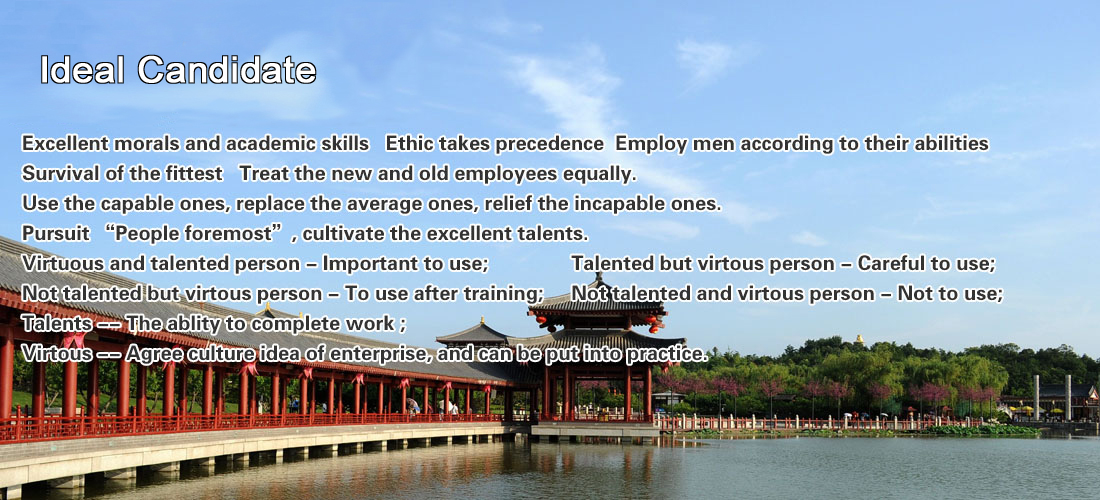 Dear friends!
Thanks very much for squeezing time to visit our website and browse relevant information. Maybe it will have a little help to you, we feel so happy about it.
LEADFRP means mechanical property satisfy customer's requirement. I also hope our products and service could satisfy your requirement and surpass your expectation. This is my sincere hope.
LEADFRP  always adhere to the management concept of 'Make Products with Duty and Responsibility, Shape Character with Honesty and Morality,We are always on the way to be better'. Because products are made by people, if a man has high moral character and do things with responsibility, he will give the matter further thought,making others admire and praise.If one's moral quality is uncomplete, the concept of running business and awareness of doing products will make others dismissive. Of course the products and price won't be good and make customers satisfied,so the enterprise won't develop long.
LEADFRP always plan our company's future with global outlook.Though we are in China, but we are producing the products which not only apply to national standard, but also international standard, like American standard and Europe standard. LEADFRP are moving toward internationalization, and we will build a one hundred enterprise.
FRP composite material products are finished by chemical reaction.The quality of different raw materials are quite different, it is hard to judge the quality just by appearance. Sometimes, instruments and devices are needed, and sometimes the judgement need several years. So doing business should start with knowing the enterprise culture and the moral quality of the boss.
LEADFRP won't manufacture low-end products, cater to low-end market and damage our long-term development strategy for immediate interest. We will pass positive energy for Chinese products going to world. As long as you cooperate with LEADFRP, we will provide products with high cost performance,and give you value-added service.
Let us be friends first! I am expecting your visit in Xi'an,China.
Yamin Wu