Fiberglass Crossarm are lighter and stronger than wood crossarms. They will not rot or succumb to woodpeckers or termites. The fiberglass crossarms exhibit an extremely high dielectric strength and contain no hazardous chemicals or pesticides. Most utilities find that the fiberglass crossarms provide the lowest installed cost. Many times, two wood arms can be replaced with a single fiberglass deadend crossarm and fiberglass tangent crossarm.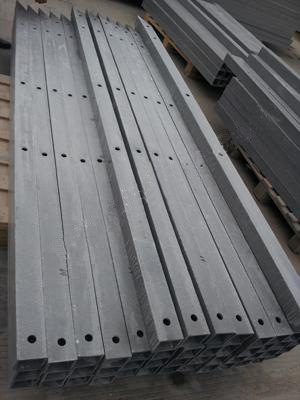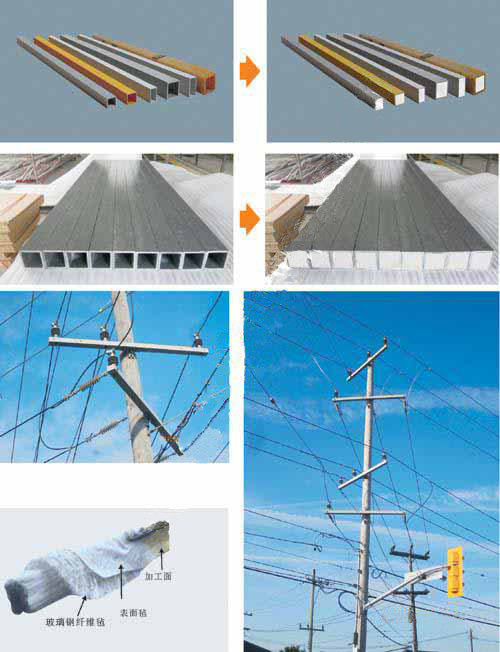 Fiberglass Crossarm Applications:
Fiberglass Crossarm Features:
Asset management
FRP cross arms can be manufactured in relatively short order, providing quality structures in the large quantities utilities need.The current lead time is as low as 3 weeks. This is in contrast to the over 6 month wait for industry-quality steel for electrical applications.
Cost savings
The largest expense in replacing wood or steel cross arms is the cost of time to send the crew to the installation site. Installation can be particularly expensive if the only way to access the site is by helicopter, due to rough terrain.Installation costs are required to replace wooden cross arms every 25 to 40 years, depending on environmental conditions and the original quality of timber. Meanwhile, FRP cross arms provide the possibility to skip up to 2 of the replacement cycles required by wooden cross arms as they enjoy a life expectancy of over 75 years. In overall life cycle cost analysis, this represents a significant savings. Although this is a very simplified life cycle cost calculation here, more detailed site, jurisdiction and utility-specific models could be developed easily.
Environmentally safe
In a world where environmental concerns are becoming a key issue, the minimal environmental impact of FRPs are attractive.FRP cross arms are environmentally inert as there is no leaching of chemicals into the environment. Because of this, some environmental groups are embracing the use of FRP structures in environmentally-sensitive areas like bogs and wetlands. In the case of disposal, nothing from the FRP cross arms will contaminate the environment and as such FRP cross arms can be recycled (preferred option) or placed in a general landfill. Yet more can be done to mitigate their impact, and currently there is bioremediation research in progress to develop biotechnological processes that will enable the disposed polyurethane to be rendered into reusable and environmentally-safe products.
Durability
Vandalism is a concern for some transmission operations. FRP cross arms proved to be quite resistant to ballistic projectile damage (gun shots); during testing, many bullets simply bounced off. Even large bullets fired at very close range did not cause structural failure. FRP cross arms are also a very durable choice in warm, high humidity environments where treated wood does not last very long and steel corrodes very quickly. To compare wood, steel, FRP composite and other specialty composite material cross arms, an extensive accelerated aging, electrical, mechanical, and structural testing program was developed and carried out by an independent research subsidiary of a large Canadian utility company. The test programs clearly show the benefits of FRP composite cross arms and also proved the viability of FRP cross arms in showing resistance to lightning strikes, bearing structural loads well, and long term durability.
Raptor & environmental protection
In some areas, raptor protection is a particular concern. When these birds land on energized steel transmission cross arms, their long wingspan can bridge over the distance between the conductor phases and metal cross arms, causing injuries and potentially loss of wildlife. When this happens, utilities have to pay significant penalties; it is also a public relations challenge. With the electrically non-conductive nature of FRP cross arms, such accidents and issues are preventable.
Long term performance
Using new materials and components always raises questions about long term performance. As mentioned above, accelerated aging tests performed by an independent laboratory confirmed that two component polyurethane composite cross arms have an expected life span of over 75 years. This is significantly better than the expected life span of wood cross arms and galvanized steel (with no additional corrosion intervention once the galvanized coating is gone), which is about 35 years in most urban environments.
Size in stock (can be customized if not in the list):
Fiberglass deadend crossarms are available in 3-5/8" x 4-5/8" and 4" x 6" rectangular sections. Fiberglass tangent crossarms are available in 3-1/2" x 4-1/2", 3-5/8" x 4-5/8", and 4" x 6" rectangular cross-sections. The 3-5/8" x 4-5/8" FRP crossarms were developed to be the most cost-effective and structurally efficient FRP crossarm available on the market! Our published values have been developed and fully evaluated per the requirements of ASTM D8019-15.
FRP vs Traditional Materials
Traditional building materials have their place. But for harsh, corrosive environments, FRP is a smart choice. Here's how FRP compares to several traditional options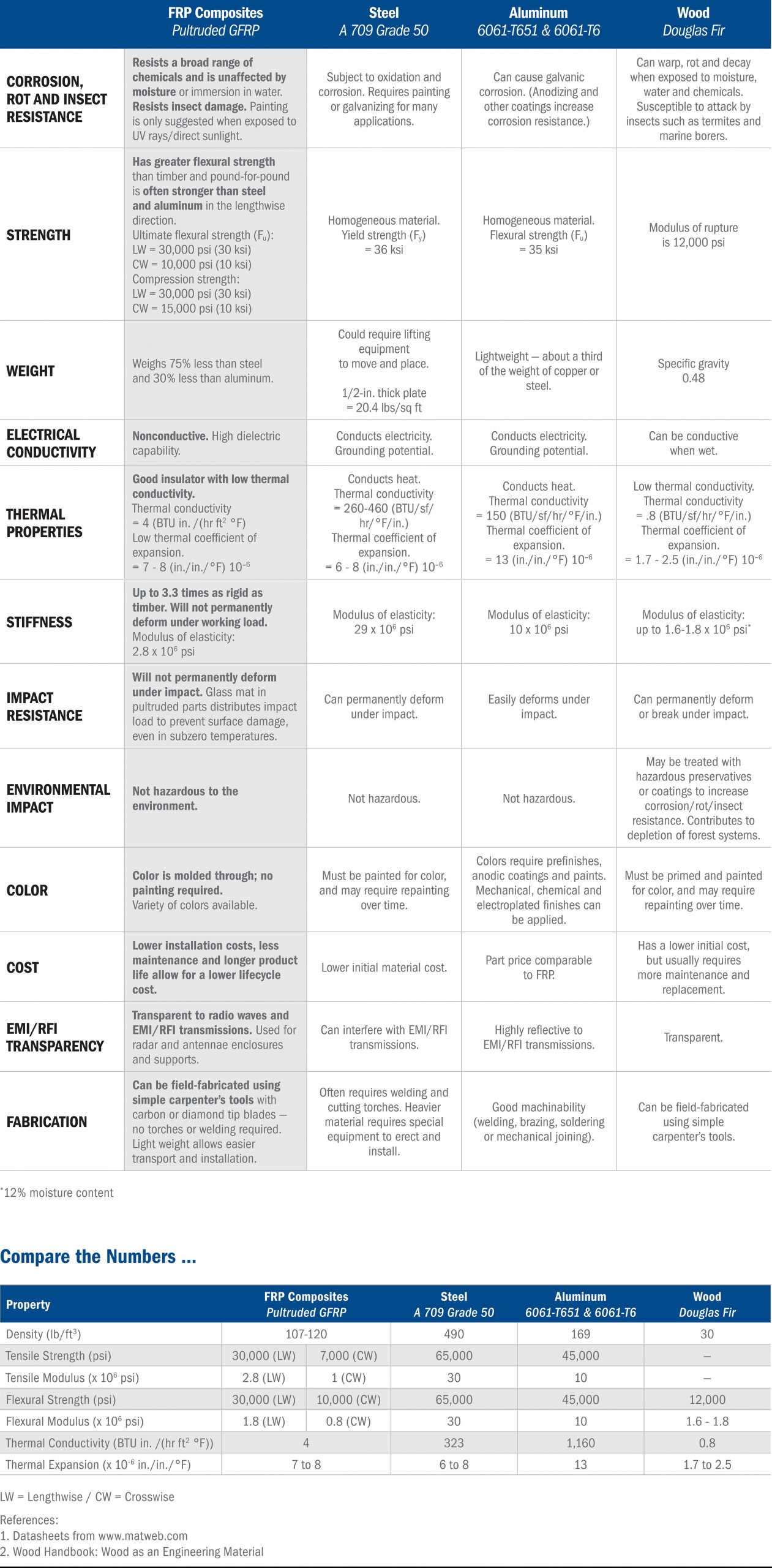 At LEADFRP, we believe that fiber reinforced plastic (FRP) products are the choice of the future. Compared with traditional materials such as steel and aluminum, it has excellent performance and service life.
LEADFRP provides a series of high-strength fiber reinforced plastic products (FRP), which are designed and manufactured to provide long-lasting performance in highly corrosive environments, while having the advantages of light weight and high dielectric strength compared with traditional structural materials.
Since 2001, we have provided our customers with innovative, high-quality composite designs and materials through two strategic offices/factories located in the United States and China. It is here that we provide turnkey solutions to take your product from concept to design, to mold calculation, manufacturing, and finally to installation. [More about manufacturing]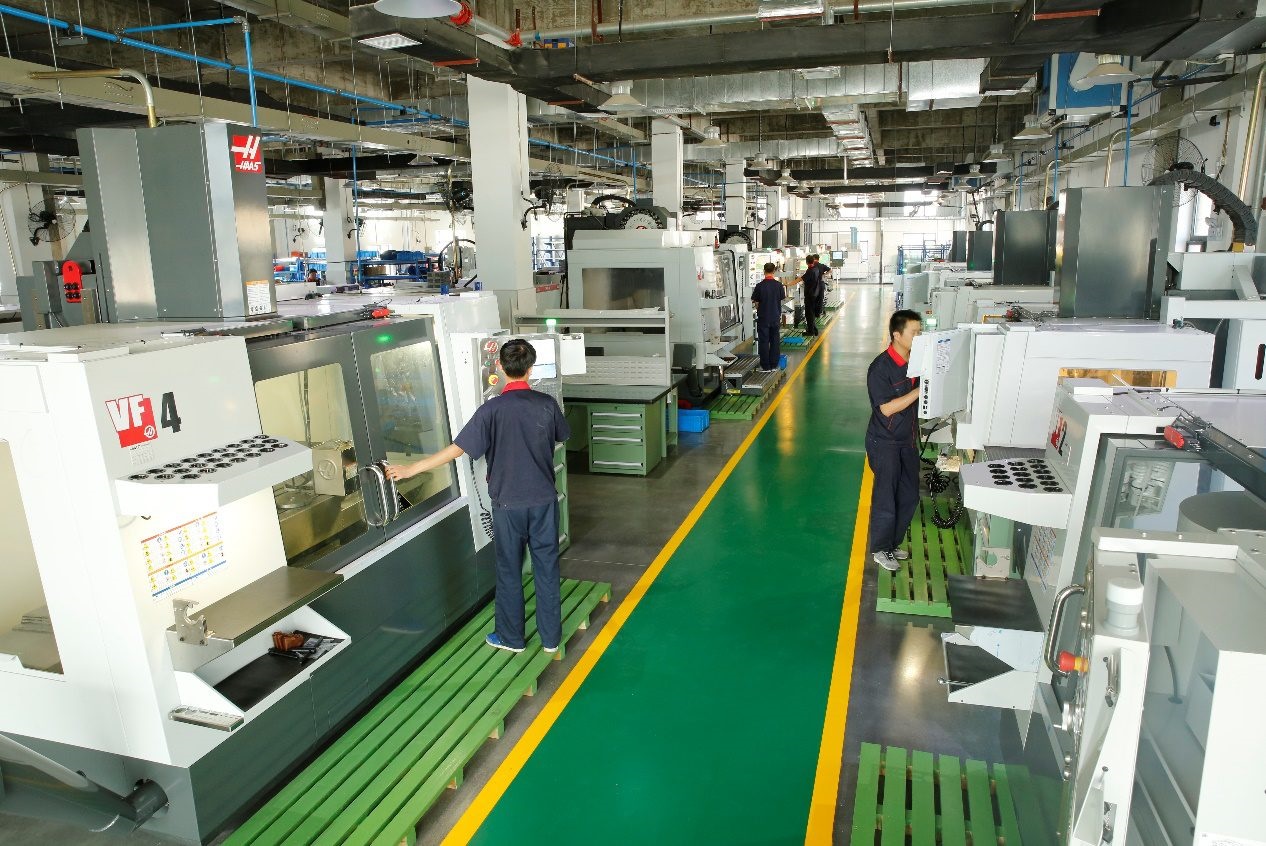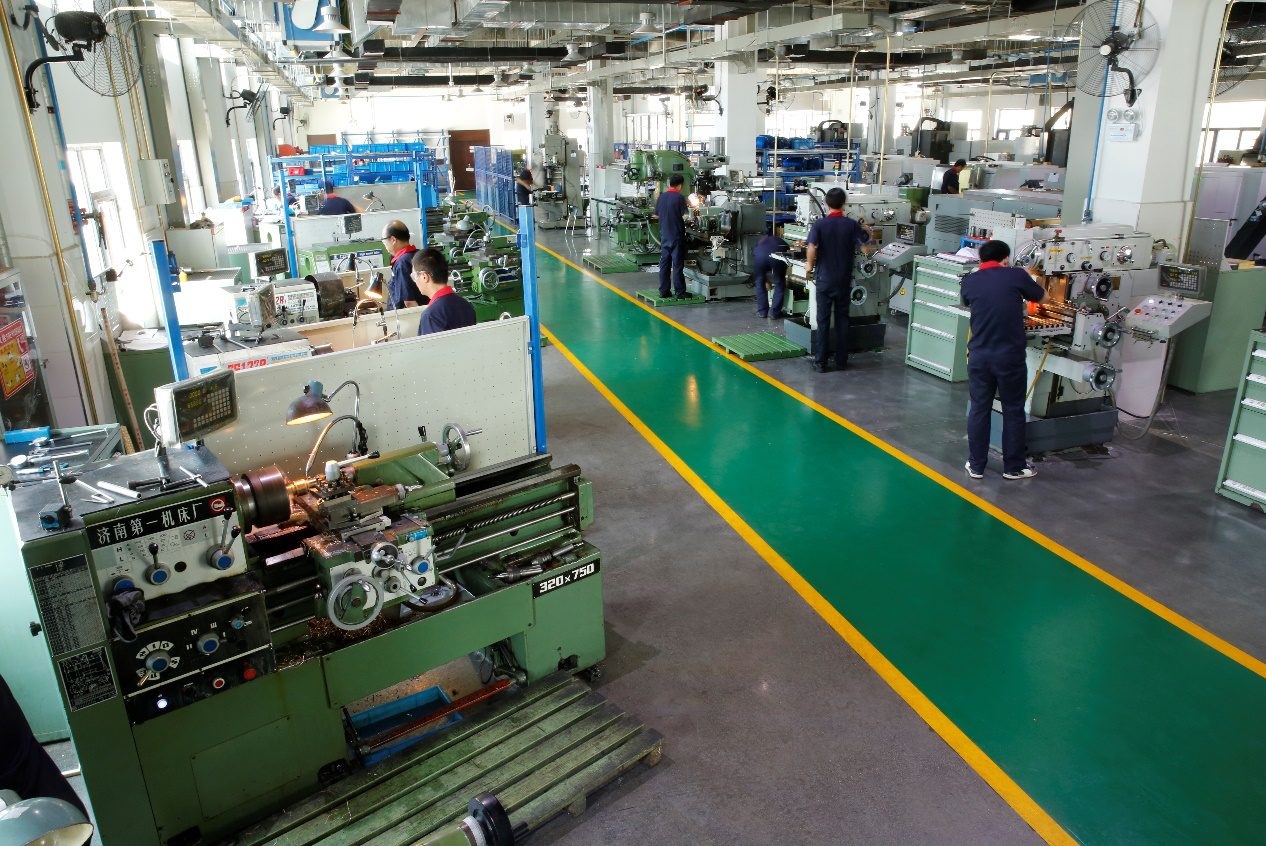 We own 5 acres (20000 square metre) standard plants, 80 sets of advanced various manufacturing and machining equipments, 120 sets of assembly pultrusion production line, including one 1000 kN tensile strength machine and one 200 kN bending and torsion machine. We also can proceed basic property test of different kinds of composite insulation materials according to GB, ASTM, etc standards. Our products passed TUV Rheinland type test and UL type test.
LEADFRP strictly carry out standardized, scientific and normalized management mode. We fully implement ISO9001 quality management system, ERP managing system and 6S management mode through the whole service cycle of contract signing, production, process inspection, finished product ex-factory, after-sales service, which outstandingly reflect 'Quality is the Life of Enterprise'. We have ISO9001, ISO14001 and ISO45001 identification.
Production Process:
Pultrusion, all Moulding type, Laminating, Casting Forming.
Feature Classification:
Food Grade, Flame Retardant, Conductive Type, anti-Corrosion, High Strength, Specific Surface.
Resin Types:
Epoxy, Polyester, Phenolic, Polyurethane, Acrylic, Polystyrene, Polypropylene, Polyethylene.
Fiber Type:
Carbon, E-Glass, ECR Glass, AR-Glass,Tow, Veil mats, Woven fabrics, Chopped strand mat.
Surface Avaliabe:
Glassfiber, Polyester, Special Type
Colors Avaliabe:
We recommend referring to RAL color standard
Size Avaliabe:
Customize Supported
With a 10,000 sqft R&D laboratory and full-time R&D staff, LEADFRP can perform most testing procedures, material qualifications and quality experiments. These resources provide LEADFRP, its customers and suppliers technical expertise that is unmatched in the composite industry. The following is a summary of LEADFRP's technical capabilities.
Decades of experience in mechanical testing of common to exotic reinforcements.
Deflection testing a composite crossarm.
Composites analysis capabilities including Finite Element and Classical Laminated Plate Theory using in-house generated lamina data.
Rapid Prototyping: In-house 3D printing capabilities offer R&D lab the ability to quickly create test fixtures and concept prototypes.
Dedicated laboratory pultrusion machine managed and operated by a full time Research and Development Engineer and dedicated machine operator.
Competency in conducting Design of Experiments to reduce testing time.
Material testing machines capable of loads as high as 220,000 lbs-force.
Full Scale Testing Machine: 3-Point Bend Test Machine capable of applying loads up to 30,000 lbs-force on 22-foot clear spans.
Environmental Chamber for elevated temperature coupon testing.
Weatherometer and material conditioning capabilities including programmable UV, temperature and condensation.
Laboratory machine shop to prepare ASTM test coupons and custom test specimens.
Custom design and testing capabilities, including custom fixture design and setup, custom laminate designs and access to our in-house machine shop to fabricate test fixtures.
Dedicated environmentally controlled Mechanical Test Lab. Dedicated environmentally controlled Electrical Test Lab.
Rheology/DMA to determine glass transition temperature and other viscoelastic properties of resin mixes as well as solid composites.
Viscosity and cure (210°F gel) testing capabilities for neat resins and resin mixes.
Color matching capabilities for resins, finished pultrusions and topcoats.